top adult baseball glove picks for Shortstop and second base
You've decided to get back out on the baseball field, and you need a new adult baseball glove. Or you've spent many seasons fielding grounders and catching balls with your old glove, but it's getting on in age and is ready to retire. Possibly, you are just curious and are looking into picking up another piece of leather. So what should you be looking for in your next glove?
Finding the right adult baseball glove can be daunting. When we were younger, we went to the sporting goods store. We would try gloves on until we found the one we loved. Then we'd beg our parents to get it for us.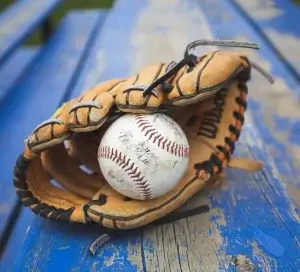 Today, shopping for a glove is a lot different. There are fewer brick and mortar stores and way more glove models to choose from. To get the best inventory of gloves to browse, you need to go online to find the biggest selection of gloves available.
This is great because there are many great baseball gloves for you to consider.
On the other hand, in a way, it's made finding the right glove more difficult. When there are so many options, it can be tough to narrow them down. Especially when you can't hold it and get a feel for it before committing to buy.
That means it takes a bit more research to find the one you want.
So I hope to help you narrow your choices down here.
characteristics of a good adult baseball glove
If you've been playing for a while, you probably have an idea of what sets a top quality glove apart. If you are just getting back on the field, you might not be sure of the type of glove to get. When that's the case, it can be hard to pull the trigger on buying a glove that might run you a few hundred dollars.
Adult baseball gloves come in a wide variety of sizes, models and materials. They also have wide ranging differences in grades of quality, price and value.
What to look for in a Budget/starter glove
Sometimes when you are Just coming back to the game, you might want to try different glove manufacturers, sizes and styles before committing to getting a top grade glove.
And that's ok. Just because a glove has a budget price, doesn't mean it's a bad glove. It does mean you will need to be a bit more choosy when searching for a budget glove, as the quality varies widely. Still, there are some adult baseball gloves coming in under a hundred bucks that might be worth trying, if you want to get a feel for a size or brand.
qualities of a good budget glove:
Reputable manufacturer

Good manufacturers will have a selection of budget gloves that are of decent quality. They won't last for years like a top quality glove will, but they want you to be confident in their brand so that you will consider upgrading to one of their premium gloves.

Pro styles

Quality budget gloves will often come in models that are styled after their premium counterparts. They won't have the same premium materials or last as long as the pricier gloves, but will have a similar shape, webbing and feel.

Series with multiple size options

Many manufacturers have different model series. For example, Wilson has the A200, A500, A700, A1000, A2000 and A2K. These series have different levels of pricing and quality. But within each series, they have different sizes and types. For example, the A1000 will have sizes ranging between 11″-13″ as well as a first base and catcher's mitt.

Some need for break in

Some gloves come game ready. Typically these are going to be too thin or floppy almost instantly. Good budget gloves won't be as sturdy as top grade gloves, but will still have enough structure to last a season or two.

Real leather, at least in palm and webbing

If it's not leather, run away. Some low quality gloves will use a faux leather that is very cheap in construction and can rip or break easily. This makes those gloves ultra cheap, but when you are fielding a ball hit by a grown adult, going with an uber cheap leather can be dangerous.
Some top grade and budget gloves will have synthetic materials used for the back side of the glove. This is okay. It's the part of the glove that touches the baseball that needs to be leather.
What to look for in a high grade glove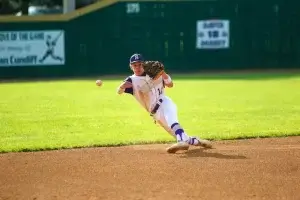 If you are looking to upgrade from a budget glove, replace an old worn out friend or just want another reliable adult baseball glove, you have a lot of options to choose from.
When you are shopping for a glove that you plan on having for years, the cost is going to be a bit higher. But if you are going to be spending more on a good quality glove, it's even more important that you find one that is going to be a good investment.
You want this glove to last, form to your hand and be like a piece of you. So it's worth the time to make sure it has all the qualities you are looking for.
qualities of a high grade glove
well established manufacturer

Most glove makers at the higher price points are reputable, but it's still best to do a little research if you aren't familiar with the brand.
There are some fantastic newer manufacturers of gloves out there. But keep in mind that the big names in gloves like Rawlings, Wilson and Nokona have a long track record to look at. They stay on top because of their quality.

High quality leather

Either top tier Steer hide or Kip leathers are the most common among premium gloves. The quality of the leather is going to contribute to the sturdiness and longevity of the glove.

The high amount of break in necessary

When you pull that glove out of the box and it's super stiff it's a good thing. It will take more time before it's game ready. But that break in allows the glove to form to your hand and create a pocket that is unique to your catching style. This will give you a better feel of the ball when it matters.
A longer break in usually indicates that the glove will stay in playing shape for a longer period of time. Depending on how often you play, this can be years or even decades.
Some companies offer to break the glove in for you. If you go this route, it will be ready for use sooner. The downside is that you'll lose out on a lot of the personalized forming that comes with breaking it in yourself.
Beware of products or practices of break in that degrade the leather. Those will significantly shorten the life of your glove.

Multiple options in higher quality series

High quality glove series will have a lot of different variations. Not just in size either. They'll have multiple web styles, pocket depths, wrist opening options, etc. They will often have different versions based on the year of manufacture as well. Quite often, customization is an option with premium series.

Good track record

The top gloves on the market have a good track record. The longer a model has been around, and is still being used, the more of an indicator it is a glove with value.
What makes a glove good for middle infielders
Where you play on the field is going to make a difference in what type of glove you use. When you are young, it's not as big of a deal. You might use the same glove for the outfield that you do for second base. But as you get older you want to find an adult baseball glove that fits the needs of your position.
An outfielder will want a large glove with a deep web to have more reach in catching fly balls.
Alternatively, a first baseman will want a first base mitt that is good for scooping and gives extra padding for all the throws they receive.
For the shortstop and second baseman, it's best to go with a glove that serves the style of play those positions demand. Middle infielders need to be able to field grounders, catch fly balls and line drives, as well as catch balls thrown to them. But what they need in the middle is the ability to transfer the ball from glove to hand quickly.
Most often, a shortstop or second baseman's glove will be 11.25″ to 11.75″
They play deeper and need to get the ball out of the glove quicker to get runners out.
They are involved in most double plays and need to turn them quickly.
Because of this, middle infielders are better off with gloves that are a bit smaller and don't have very deep pockets. You don't want the ball to get lost in the glove when time matters.
common qualities of a middle infield glove
Generally on the small side

A middle infield glove is usually between 11.25″ and 11.75″. For some players with bigger hands, you might be able to go to a 12″ but the bigger the glove, the more likely you'll have to feel around for the ball on transfers.

Shallower pocket

An 11.5″ glove is already going to have a smaller pocket than a 13″ glove. But most middle infielders prefer a shallow pocket glove to better help in getting the ball out quickly

On the stiffer side

It needs to be broken in enough to close around the ball when needed. But not so soft that it's floppy. Floppy gloves can bend back on a hard grounder or throw. Middle infielders need a glove that is firm enough to stop the ball just by getting the glove on it.

Not always the case, but most middle infield gloves will have an open style webbing. These web types tend to stay firm longer than closed or trapeze web styles.
Criteria used for this list
As mentioned before, the choice of gloves available is enormous. So, I needed to have some criteria for coming up with this list.
To be included in this Best adult baseball gloves for middle infielders list, gloves must:
Be from a well established brand

There are tons of good new glove companies out there. Their absence from the list is not a denouncement of their quality. Personally though, if I can only buy one glove, I'm going to choose from a brand that has a long track record for their products. In the future, as I try gloves from newer companies, I'll include them in reviews.

Quality should match or exceed the price.

If I'm buying a glove, I'm not buying the name. I'm buying the quality. The price should be in line with the quality of the glove I'm buying.

Must be easily obtainable, either from the manufacturer, a retail website or a store.

Recommending a hard to get glove doesn't do you any good.

Be a glove that I would trust to use if the game was on the line!
Speaking of trust. I believe strongly in transparency. The gloves I recommend will have links. Those links will take you to a site where you can purchase the glove or search their site for other gloves or products. These are called affiliate links. If you make a purchase, I will receive a commission at no extra cost to you. It helps support this website and keeps it free for use. Learn more.
That said, you can always just take the info provided in this article and go to any of these sites or alternatives without clicking the links, if you wish. I'm not a salesman. I'm a ballplayer. There will never be pressure to buy.
Keep in mind, the gloves I recommend are based on my preference after playing these positions over the years. Others' opinions may differ.
My Picks for the Best budget gloves for middle infielders
I picked these gloves because I used both of them, among others, when I first started playing in an adult baseball league. I wanted to try out different brands and models before committing to a higher priced glove. After going through 4-5 different brands in the 11.5″ size that were under $100, these two were my favorites. If you aren't sure what size, brand or model you want, I recommend you start trying these out.
This was one of the first gloves I bought when I got back on the baseball field as an adult. Playing primarily shortstop at the time, I wanted a glove that was sturdy but could be broken in quickly.
I didn't want to spend a fortune since I wasn't sure I'd be staying in the middle infield or moving to another position.
I also wasn't sure if I wanted to go with Rawlings or another brand.
This glove served me well for about a year until upgraded to a premium glove. I still have it and will use it on occasion in practice to save wear and tear on my other gloves.
Pros:
Full grain leather shell that allows for good forming and helps keep from breaking down quickly
For a lighter glove, it still has decent padding, though it will break down over time.
Needs a little break in but will be ready for games after a few rounds of catch.
The price. Coming in at under $100, this glove is good value for the cost.
After 4 years, the laces on my glove are still strong and the leather shows no signs of ripping (In fact, my pitching glove is another Rawlings Sandlot, an 11.75″, and I have used it regularly for 4 years.)
Cons:
The hand opening is a little on the smaller side. This is perfect for me as I have average sized hands. But for a bigger player it could be a tight fit. (They list this as a teen/young adult glove, however I'm in my 40s and it was great for me.)
After a season, much of its stiffness is gone.
Probably not a glove that will withstand a lot of years of everyday use.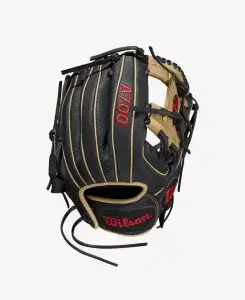 This is another glove I tried out when I was first coming back to adult baseball. I wanted to field test a few different gloves before committing to a brand for my premium upgrade.
This glove made the choice difficult.
Once again, since I knew I wouldn't be using it for multiple years, I didn't want to invest a lot of cash into it. The A700 comes in under $100
This glove has a similar shape and webbing as Wilson's premium gloves.
I used the A700 for a while. And while I liked it, I preferred the Sandlot just a little bit more. Sometimes it just comes down to personal preference.
I ended up giving the glove to another player in the league. He still has, it though I don't think it's his regular glove anymore.
Pros:
Full leather shell. Shaped nicely and held it well
On the lighter side. won't slow down your glove hand.
The hand opening is easily adjustable if you need to loosen or tighten it
The price is worth it for the quality. Not a top end glove, but it's serviceable. Especially at that price range.
Broke in quickly, so if you need a glove to use right away, it's a good choice
Cons:
The padding is okay but broke down quickly. not fun to get a line drive in the palm
If you don't tighten the laces well, they loosen easily. This can have the glove feeling loose on the hand
Probably won't stand up to a lot of abuse, but should last a season or two if taken care of.
My picks for the Best gloves for middle infielders
If you are like me, you want a good adult baseball glove that is going to hold up to plenty of abuse. You know it's going to cost a bit more than a budget glove, but you want the glove to last for years of play on the diamond. Since you are a middle infielder you need a glove that's going to conform to your game.
That's the way I feel about buying a glove. To me, value isn't just the cheapest or most expensive glove on the market. It's the glove that gives me performance, longevity and bang for the buck. That's why these gloves are my top picks.
They will put up with daily use and give you years of good service. They form well to your hand and style of play. And their quality exceeds their cost.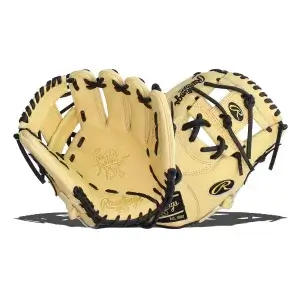 This is my current regular glove (mine is all black though). I've had mine for 3 years and I still love it. It's solid, easily scoops grounders, snags liners and is easy to transfer the ball out of it.
This is my favorite glove that I've ever owned.
My HOH has held up well under a lot of use, some abuse and being left in my car trunk during the 100º days of summer.
It took a while, almost a year before it was broken in perfectly to me. But I was using it in games within about 2 weeks of getting it.
It is still very sturdy and handles the duties in the middle infield well.
Though it's a little short for 3B, I still use it when I'm filling in at the hot corner.
Pros:
Top grade US steer hide. The leather of this glove is tough, formable and very durable
Comfortable feel. Slips on and off with ease but stays in place where I want it
Good padding, but not so much that you don't have great feel of the ball
Very strong laces. They stay tight and in 3 years show very little wear
Shallow but pronounced pocket. Snags the ball easily but the ball won't get lost in it
Great quality for the price. This is not Rawlings highest cost glove (Pro Prefered) but I believe it's the one with the best value, hands down
Cons:
Can take a while to break in. This is good and bad. If you need it right away, it will take some work to get it game ready. But once you do, it holds its shape for a very long time

If I didn't end up getting the Heart of the Hide, I would have gone with the A2000. It has a similar price and top notch construction.
It was a difficult choice. Sometimes it just comes down to having no wrong choice.
Many of my teammates use the A2000 as their glove of choice. And I can't fault them for it.
It's a sturdy glove that forms well after a good break in and is built with great quality.
If you are looking for a glove that will last for years, form well to your hand and give great service for its cost, you won't go wrong if you make the Wilson A2000 your glove.
One feature where I think it is better than the HOH is if you like to "wing out" the thumb and pinky of your glove, as many middle infielders do. (I prefer not to personally.)
Pros:
Made with Wilson's "Pro Stock" Leather. It forms great and holds that form for years
The soft liner gives good lasting comfort
Shallow, stiff pocket made for fast transfers
Good lacing. Will last for years and stay tight
Tips "wing out" very well. Something many middle infielders prefer
Great quality for the price. This glove will give you a lot of years of use without breaking the bank
Cons:
Takes a lot to get it broken in. But once you do, it will hold form and remain sturdy
A bit stiffer, even when broken in. This can be good if you prefer a stiffer pocket. Otherwise, it will take some extra time to form a good ball sticking pocket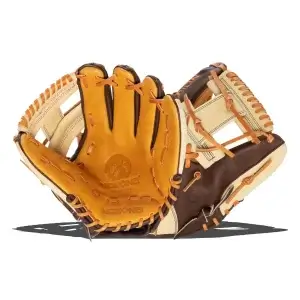 check the price at Just gloves
Getting a Nokona glove has been very high on my wish list for a long time. Every one I've tried out has had a solid but comfortable feel.
The leather is amazing. It takes a lot of break in, but I've seen Nokona gloves that are 30+ years old and still hold their structure well.
The DesertKip® Pro isn't Nokona's most expensive glove, but It might be one of its most valuable. It features Nokona's "AmericanKIP" leather, a steerhide with similar qualities to European and Japanese Kip leathers.
It has a sturdy build and is made in the US.
Every player I talk to who owns a Nokona swears by the brand and believes their leather is better than other gloves.
I can't say that with certainty as I've only had limited time using a Nokona glove, but from what I've felt of them, I'm inclined to agree.
Many of the Nokona's I see on the field are decades old
Pros:
Made with "AmericanKip" steerhide which is durable and moldable, while staying lightweight
Holds up to use for many years
Sturdy build but a lighter feel than many premium gloves
Good size hand opening with good padding and a comfortable feel
Nokona has been in the glove and leather business since the 1930s. They have a good record of making outstanding products
Cons:
It's a bit pricier than the HOH or A2000, but if it lasts for years, it might be worth the investment
don't stop until you find the right glove for you
Whether you are starting your adult baseball journey or are a seasoned vet, it can be both difficult and fun trying to find the right glove to be your friend on the field.
I hope my top picks for gloves for middle infielders help you to find the best option for you. Whether it's one of the gloves from the list or just traits to look for as you search for your new glove, I hope this article has been helpful.
If you want to do more searching or researching on ball gloves you can check out the Just Gloves website where you can find hundreds of glove options from all the top brands.
If you are interested specifically in Wilson gloves you can check out the Wilson Baseball gloves website.
Keep working hard to be the best player on the field.
Any day on the ballfield is a good day.