These multi bat packs should be on your radar
Most adult baseball leagues and tournaments use wood bats nowadays. As metal bats got hotter, adult leagues started moving back toward the game's roots. When players are looking for new lumber, the search can be fun and exhausting at the same time. Add to that, wood bats will break from time to time. No player wants to be left begging their teammates to use a bat after their favorite piece of wood breaks on the field. So having more than one bat in your bag is a must. This is making multi bat packs more popular than ever.
As adult leagues have grown and more and more bat companies join the market, companies get creative to differentiate themselves from each other. One of the ways that bat makers have tried to stand out is by offering multi bat packs.
Why do companies offer multi bat packs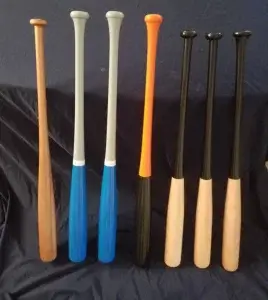 Because buying patterns change, bat sellers are often stuck with inventory that they need to try to sell. They need to make room in their warehouses.
There's nothing wrong with the bats, the companies just gambled wrong on which models would be most popular that year. They need space for new stock coming down the line.
To get more bats out the door, they offer multi bat deals that offer a good discount to buyers. The one caveat, though, is with most of these deals, you can choose the length you want, but have no choice in the model you get. Often, all the bats must be the same length as well. The lower price is a trade off for allowing the company to thin out their overstocked inventory.
Multi pack deals benefit both the players and the companies that offer them. Bat manufacturers produce a ton of stock bats in different models each year. Some go to retailers while others are sold on the brands' websites.
But it's difficult to know which models are going to be most popular from year to year. So sellers have to get creative.
There's no doubt these deals are good for the sellers and the buyers. It gives the company a way to get rid of bats they had trouble selling while giving players a way to save some money,
Not every company offers multi bat deals. But more and more are starting to.
Bat deals that are a step above
Most of the companies that offer multi bat packs are the bat makers themselves. That's good in that you are getting them directly from the manufacturer, but it also means the offers are limited. Those multi packs only feature bats branded by that company. And since their incentive is to clear out inventory, your choices are limited, when choices are offered at all.
At Just Bats, many of those limitations don't apply. They sell bats from many different brands and in dozens of models. And since they are not a pass through seller, they own their inventory. That allows them a lot of flexibility in their multi bat pack deals.
While they sell all types of baseball bats, from aluminum to composite to wood, we're going to focus on their offering of wood bat multi packs.
After all most adult baseball leagues are wood bat leagues nowadays.
pick your pack
Just Bats calls their multi bat deals "Pick your pack". These bat packs give you a lot of choices along with multiple offers for you to choose from.
Some are similar to standard multi packs where you'll pick the color and size. Then they will choose random models to ship to you.
But with other packs, the brands, models and sizes are offered in a broader range of choices. On top of that, with these deals, you get to mix and match your choices.
For example, with their "3 pack platinum" you choose 3 bats from a selection of 11 different brands, 31 models and up to 6 different lengths. You choose 3 bats and they can all be the same or all be different. It's your choice.
And you get to save a bundle in the process, as the price of the pack offers significant savings over buying the bats individually.
These multi bat packs stand apart and are a worth taking a look at if you're in search of great bat deals.
We'll start with taking a look at the two offers that are more traditional bat packs. They offer one of the top bat brands, but there is no guarantee of with turning profile you'll get. You do get to choose your length and finish while saving some money.
Victus bat packs
The Victus 2 pack is a diamond level bat pack from Just Bats. You get the choice of 2 bats with five different finished in up to 6 different lengths.
The bats featured in this package are Victus V-cut models. The V-cut are bats that were intended for MLB use but had a minor blemish, either in weight, color or profile. That kept them from being shipped to major league players, but it gives you a chance at getting a bat made with Victus's top wood at a much lower price.
The bats in this package are Pro Ink Dotted and pass MLB's test for grain integrity.
Of the 5 finishes offered, 3 are exclusive to Just Bats. Along with saving off the full price of 2 high grade bats, you'll enjoy free shipping when you order this package.
The Victus 3 pack is similar to the Victus 2 pack. The only difference is that you will get 3 bats instead of 2 and that leads to even bigger savings.
Like the 2 pack, this deal lets you choose from the 5 Victus V cut bats offered. You can choose to have all three bats the same or all three be different.
If you choose the Victus 3 pack, you'll get 3 MLB quality bats at a great price with free shipping.
This is a great option if you want to try out the Victus brand, but balk at the full price of their bats.
The Diamond Adult Wood 2 Pack from Just Bats gives you 7 bat choices from 4 different brands. 2 of the choices, the Marucci Pro Cut and the Rawlings Pro Stock Overrun give you choices of styles, but the models are randomly chosen.
The other 5 selections are specific turn models from Louisville, Rawlings and A-Bat.
2 choices are Birch while the others are Maple.
All of the models come from the top 2 wood tiers of the brands.
If you are looking for some great models with good track records of performance, this is a great package to consider.
Platinum packs (our pick for best deals)
The Adult Wood 2 bat Platinum pack is one of the best multi bat packs available to adult baseball players…period.
This package features 31 different bat models from 11 different bat brands for you to choose from.
If you want to try out different brands or models you aren't familiar with, the platinum level bat packs are the way to go. Your options are numerous.
These bats that typically sit in the mid to upper range of price, but with this deal, you will save big while getting a chance to swing something new.
Bats in this package include maple, birch, bamboo and wood composites.
If you don't at least take a look at this deal, you'll miss out.
Maybe the only deal better than the 2 Bat Platinum pack is the Adult Wood 3 bat Platinum pack.
This deal gives you the same choices of bats offered in the 2 Pack deal. But in adding a third bat, you walk away with another piece of quality lumber and increase your savings at the same time.
If you want to have a dependable and diverse arsenal in your bat bag, this package can make that happen.
Once again, you will choose from some outstanding bats and be able to give a tryout to a bat you might have been on the fence about.
Get yourself some backup bats or a stick for all occasions. Mix and match to try out brands you might never consider on their own. Either way, it's worth browsing the possibilities.
gold packs (best budget deals)
If it weren't for the fact that wood bats break on occasion, you could get away with only having one piece of wood to swing.
Unfortunately, that's not the case.
If you are like many, you worry about spending too much on a bat that may end up as firewood. If that's the case, the Adult Wood gold 2 pack is a tempting deal for you.
In this package, you get to choose from 26 bat options from 9 different brands.
The bats in this offer are low-mid priced models but aren't the cheap bats you grab off the rack at many sporting goods stores.
Instead, you get to choose from some good quality budget bats and save a bunch at the same time.
If you want a couple of bats with out breaking the bank, this is the offer for you.
The Adult Wood 3 Pack Gold is an even better deal than the gold 2 pack.
You get to choose another good bat and save even more on your purchase.
If you are considering a good pack, go for the 3 pack version. For just a little more, you get another bat to have by your side.
Set one aside for batting practice, as your go to gamer or just as a backup in your bag in case of the worst case scenario.
If you want to save money while increasing your batting options, take a minute to take a look at this deal.
shopping for multi bat packs is fun
I don't know about you, but I always have a lot of fun when I'm browsing baseball bats. Even though I make custom bats myself, I still am in the market for bats made by different brands from time to time.
That keeps me scouring the websites of different bat companies on a regular basis. And I have to say, Just Bats has the best multi bat packs I've ever come across.
There are options for every type of hitter and every budget. You get to pick and choose among a lot of great bats. And you aren't stuck with just one length, one model or one brand.
If you aren't sure which bat you want to buy next, I recommend you make a stop at Just Bats on your search for new lumber. You won't be disappointed with the selection or the prices.